Phase I Agreement with China in Progress - Planned December 15th Tariff Increase to be Withdrawn
Friday, December 13, 2019
In a tweet issued on Thursday, December 12, 2019, President Trump announced an agreement with China on certain outstanding trade issues that will result in cancellation of another proposed tariff increase scheduled for December 15 – this increase would have added $160 billion in new tariffs mostly on consumer goods. The deal may also include the rollback of earlier tariffs ("Getting VERY close to a BIG DEAL with China. They want it, and so do we!" Donald J. Trump (@realDonaldTrump on December 12, 2019).
Further details are expected to be announced shortly, but the phase I deal is likely to include a commitment from China to purchase a large quantity of U.S. agricultural goods, perhaps as much as $50 billion dollars. This deal has been in the works for many months but has faltered several times in the past.
The new arrangement reportedly would guarantee China carrying through on commitments with so-called, "snap back" provisions. These "snap back" provisions will allow the US to automatically reimpose tariffs that were rolled back.
It is reported that the Chinese have agreed to some reforms relating to their intellectual property regime (the main focus of the President's original action under section 301 of the Trade Act of 1974) along with market access. Some critics fear that the US has not reached its targets regarding these core issues and that US concessions at this stage could make it harder to obtain the most important changes the US seeks in Chinese intellectual property and trade practices. China has reportedly agreed to some reforms in its financial services policies and it is reported that the initial agreement would include certain currency manipulation provisions which have been a contentious issue between the US and China for a long time.
The timing of the phase I deal enables the US to avoid the December 15th tariff increase which would have impacted many consumer goods (e.g. cell phones and other electronics), ten days before the Christmas holiday. The deal is also likely to allow for progress on agricultural projects that are already in the works between US and Chinese companies. One such project includes the recently developed partnership between the Hohhot Municipal Government of Inner Mongolia and the city of Lansing, Michigan. This collaboration between Michigan and Inner Mongolia in the dairy industry will be mutually beneficial for Chinese customers and US dairy farmers.
(Butzel Long and the Michigan US-China Exchange Center have been the driving forces behind the cities' partnership.)
Preventing the tariff increase is also likely to boost year-end stock market performance. The market has already reacted to the new reported changes.
While no official legal text has been released as of this time, two additional tweets released by President Trump on the morning of Friday, December 13, 2019, indicate confirmation of the postponement of future tariffs originally set for December 15, 2019, but leave doubt as to the future of existing tariffs.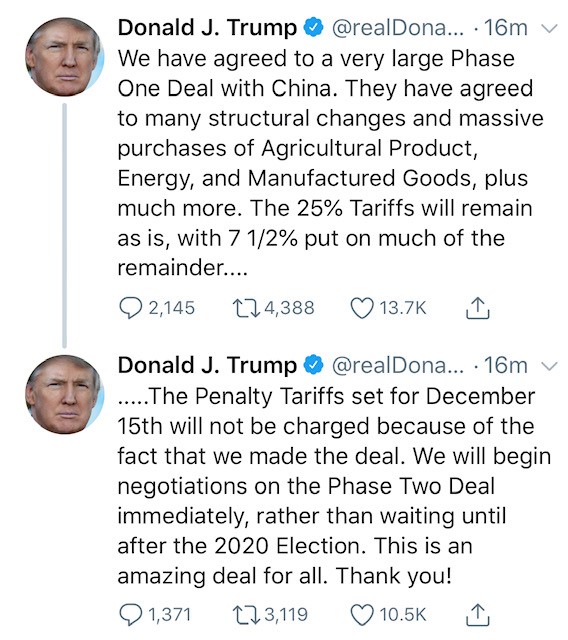 Further details will be reported when the legal text is announced. Details on earlier China 301 developments can be found here: Butzel Long Client Alert from August 26th, 2019.
Leslie Alan Glick
202.454.2839
glick@butzel.com
Catherine Karol
313.225.5308
karol@butzel.com
Mitch Zajac
313.225.7059
zajac@butzel.com
Raul Rangel Miguel
202.454.2841
rangel@butzel.com
Bill Quan Yang
313.225.7094
yang@butzel.com
He Xian
517.372.4449
xian@butzel.com
Stay Informed
Team Contacts