Soaring To New Heights: Pleading In Delta Dispute Shows Value Of Images In Pleadings
Tuesday, July 20, 2021
Last week, a commercial airline pilot filed suit against Delta Air Lines in the Superior Court of DeKalb County, Georgia[1] alleging that the aviation giant misappropriated a proprietary flight crew communications system he designed. Setting aside the factual and legal arguments of that trade secret dispute, however, the complaint in Alexander v. Delta Air Lines, Inc. provides an excellent example of how practitioners can use images to more effectively educate (and captivate) its audience and, overall, how to describe and tell a story about misappropriation in an illustrative and interesting manner.
THE COMPLAINT
At bottom, the dispute in Alexander is similar to many other employee-employer trade secret disputes, containing allegations of misappropriation, breach of contract, and breach of fiduciary duty, among other causes of action. Yet one area where the initial pleading is particularly noteworthy is through its extensive use of photos, graphics, and document excerpts to create a compelling narrative of alleged wrongdoing. Three examples are provided here:
First, a threshold challenge for any legal writer is establishing the credibility of ones' arguments. While that can be accomplished in many ways, the Alexander complaint sets a tone of credibility early on through the following picture of the plaintiff and discussion of his professional accomplishments: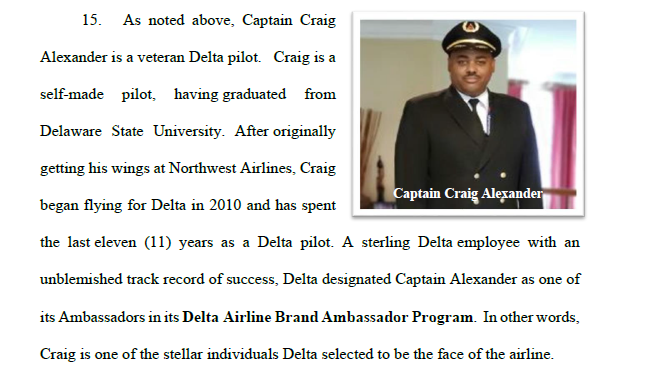 While not suitable for every pleading, here the photo of a uniformed Captain Alexander, together with terms such as "sterling," "unblemished," and "stellar," immediately casts plaintiff in a favorable and credible light.
Second, a common problem in a trade secret misappropriation dispute is simply conveying to the court what the underlying proprietary device or technique is. Too often, parties rely on technical jargon or abstract concepts that may be difficult for a busy judge to work through, or which are simply unpersuasive. One potential solution to this problem is the use of visual aids, deployed here to show the original design sketch and subsequent prototypes: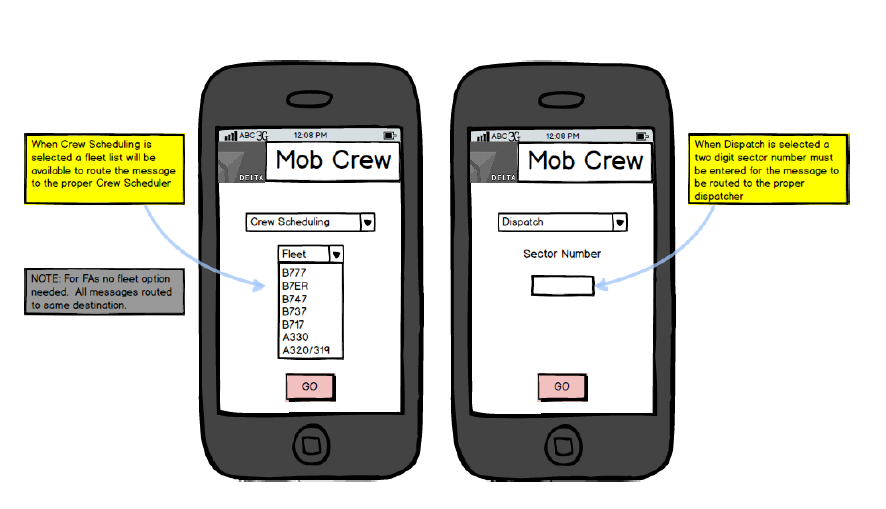 Third, while an initial pleading must often marshal documentary evidence such as e-mails or agreements in support of its claims, practitioners may struggle to convey the importance of a given statement or clause. The Alexander complaint avoids this issue by, for example, featuring large excerpts of important communications, with key passages highlighted in yellow or with red text and/or underlining: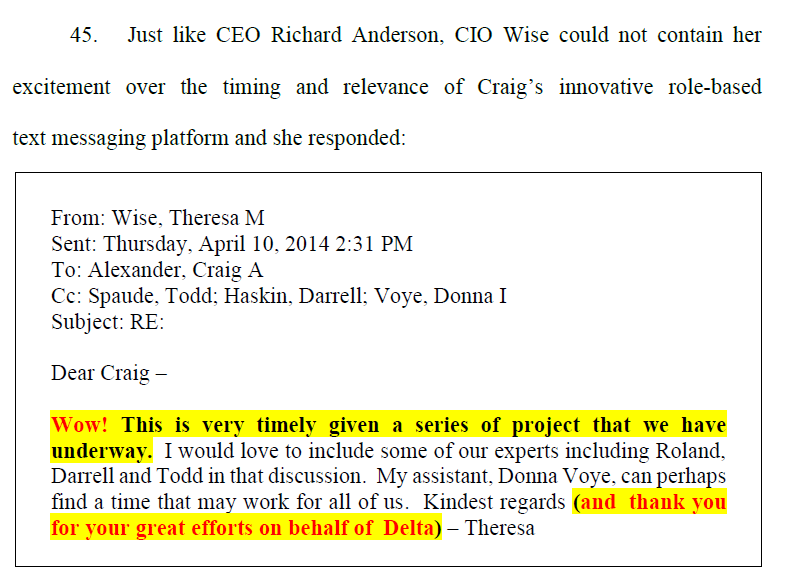 Here, the image effectively animates the underlying claim (i.e., that "CIO Wise could not contain her excitement . . ."), and like a trial exhibit, immediately draws the readers' eyes to the most important text.
TAKEAWAYS
While different disputes undoubtedly warrant different approaches, review of the initial pleading in Alexander v. Delta Air Lines, Inc. demonstrates some of the ways that a trade secret practitioner can use images to bolster the persuasiveness of their arguments.
Butzel Long continues to track, analyze, and advise on a variety of issues regarding trade secret and non-compete litigation.
[1] Alexander v. Delta Air Lines, Inc., No. 21A03275.
William Kraus
734.213.3434
krausw@butzel.com
Stay Informed
Team Contacts